Innovation is the driving force in creating new value, and delivering real solutions to increasingly complex expectations. To accelerate innovation you need to connect to the smartest, most accomplished thought leaders across industries, which you will find at the Front End of Innovation Venice.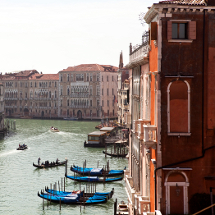 Join your peers this 17-19 of March at Ca' Foscari University, Venice, Italy where together you will build an ecosystem that drives continuous value creation.
Highlights from this year's program:
' Explore the design centre of Europe as you embark on a culture safari around the most unique areas of Venice. Take those insights and translate them back into future trends for your business.
' Design Legends take the stage - including Frank Stephenson, designer of the BMW Mini, Alberto Alessi, Founder of Alessi SPA, Vince Voron, former head of design at Apple and Coke and current AVP of Creative Excellence at Dolby
 ' Academic Stand-outs Take the Stage with Industry Experts: Frank Piller, Professor at RWTH Aachen & MIT Media Labs discusses 3D printing and the next industrial revolution , while Muaro Piloni, President, Whirlpool R&D shares how to make innovation happen in a commodity market.  
' Best in Class presentations from 3M ' ABN AMRO ' Alcatel-Lucent ' Barilla ' Dow Corning ' EY'  H-FARM ' Kaos Pilots ' LAGO Spa ' LEGO ' Mundipharma ' Procter & Gamble ' Siemens ' Space & Energy Network ' Starwood ' Swisslog ' Unilever ' Vodafone ' and many more
Core Content Areas covered:
' Innovation Management
' Cultivating the Innovation Environment
' Design & Trends as Early Influencers
' Foresight and Trends Driven Innovation
' Aligning Innovation Ecosystems
' Business Model Opportunities
Download the brochure for the complete speaker line-up and full conference agenda.

FEI Venice will connect you with  decision makers across Europe, who are responsible for  trends, innovation, design, R&D, and product development. We invite YOU - the next series of breakthrough thinkers, dreamers, and, most importantly, doers - to join us in Venice!