What a New Report from Pharma Intelligence tells us about the future health of the pharmaceutical industry.
To a certain extent, we can infer much from the Pharma Intelligence report "Top 10 Best-Selling Drugs of 2018 Fund US and EU Pharma R&D" about the future health of the pharmaceutical industry. Each of these drugs achieved global sales in 2018 of at least $6.5bn (see Table 1) and the total sales value of these drugs amounted to an astounding $87bn. Of these drugs, Humira (adalimumab; AbbVie/Eisai) sits atop the heap with global sales of $20.4bn. This is equivalent to approximately 23% of the top 10 drugs' total sales. Easily head and shoulders above the rest, Humira's substantial lead margin of $10.7bn was worth more than the worldwide sales ($9.7bn) of the second leading drug, Revlimid (lenalidomide; Celgene).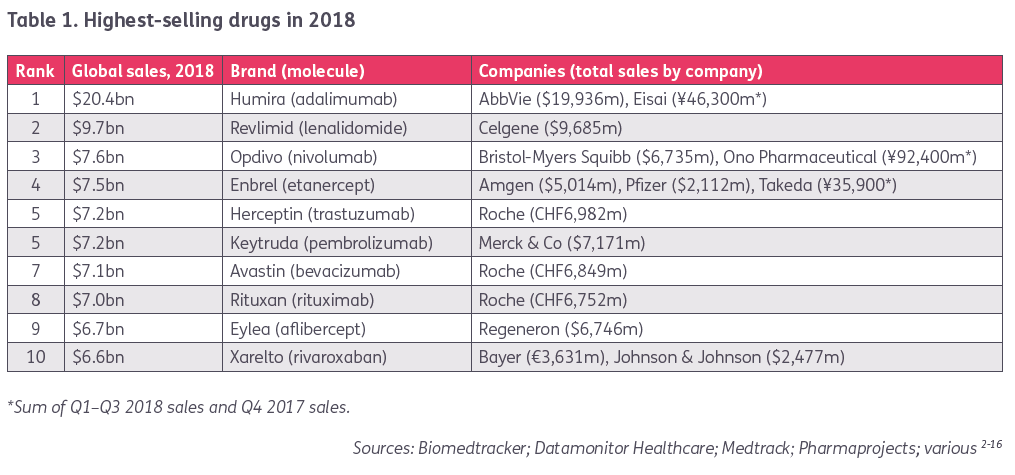 Where are these drugs making a majority of sales?  You guessed it: the United States. US sales of the highest-selling drugs constitute 56.6% of their total global sales. But, how long can this situation last?  On average, there was a 6.9% rise in the US list prices of the most lucrative brands from 2017 to 2018. The greatest change from 2017 to 2018 was Revlimid's 16.5% increase in list price, as the drug experienced three price hikes. In January and February 2019, the US Senate Committee on Finance held hearings with top pharmaceutical executives to get to the bottom of the issue.
What these astute Statesmen unearthed was that senior executives' compensation is tied to sales. My Lord! For example, AbbVie's performance incentive plan, whereby Humira sales are directly tied to senior executives' bonuses, and that these payouts drive incentives that are fueling continued price hikes. Of course, adding a hint of farce to such examination is the fact that members of the Senate Finance Committee took a combined $7.9 million from the pharmaceutical/health products industry over the last six-year Senate election cycle. What will this likely mean for future pricing pressure on top selling drugs? Probably not too much.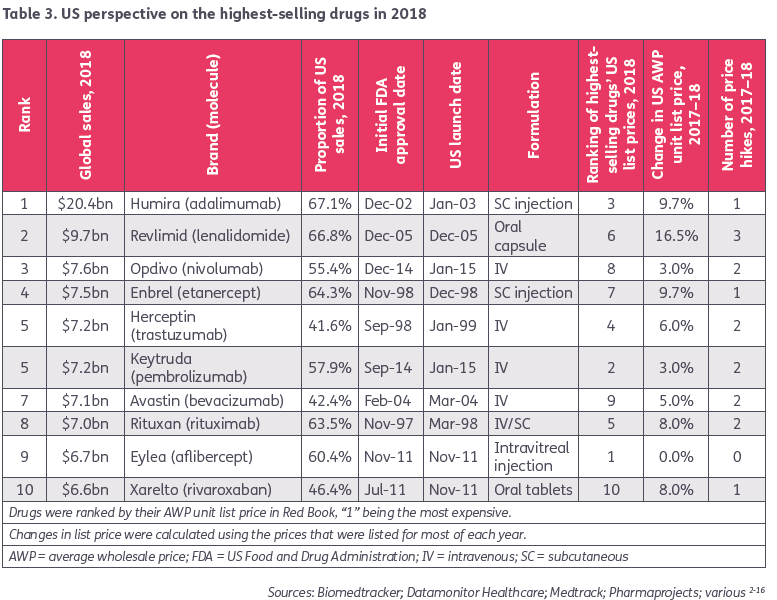 The real pricing pressure probably won't come from politicians in Washington, but from the market where biosimilar and generic entrants loom. As the report shows, while total sales of the top 10 drugs grew during 2017–18, Enbrel, Herceptin, and Rituxan declined. These products face biosimilar erosion across the major market. As more biosimilars enter the market, competition will intensify, and these brands are expected to continue declining as their market share is increasingly eroded. However, pharma will not give any ground easily. AbbVie is a case in point, where Humira accounts from ~61 percent of its 2018 net revenue. The company has secured more than 100 patents to prevent anyone from attempting to copy the biologic, and aggressively litigates challengers.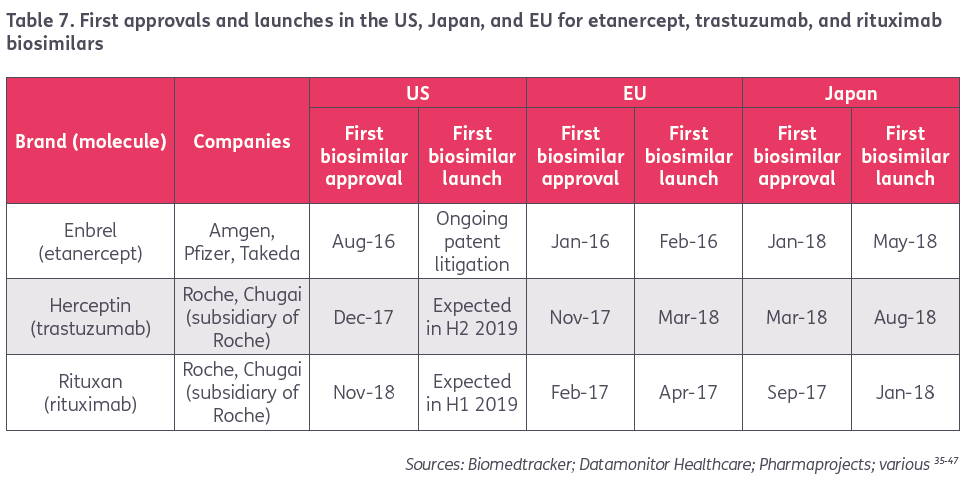 Nevertheless, the status quo cannot last and eventually the revenues of these top selling drugs' market share will evaporate as patent life comes to an end, some faster than others. How the industry will meet this challenge is the question across the pharma executive suites. Certainly, part of the answer lies in increased dealmaking with biotech in an attempt to fill pipelines with potential future revenue generators—or, facing stalled growth and questionable future growth and high margins, entering more M&A.
Take a deeper dive by downloading the full report Top 10 Best-Selling Drugs of 2018 Fund US and EU Pharma R&D