Join us for the annual observance of World Rare Disease Day (WRDD) on February 28. With more than 350 million people affected by rare disease globally, World Rare Disease Day is an annual observance held on the last day of February to raise awareness for rare diseases, in hopes of improving access to treatments and medical representation for affected individuals.  On average, 1 out of 10 individuals is affected by a rare disease and it takes approximately eight years for a rare disease patient to receive an accurate diagnosis. 
However, there are many organizations who are working to turn the tide on these often-overlooked diseases. Global Genes is one of the leading rare disease patient advocacy organizations worldwide and a consistent supporter of this important day of awareness.  Since 2009, Global Genes and hundreds of patient advocacy organizations around the world have engaged in awareness-raising activities developed by Global Genes in support of World Rare Disease Day!
"It has been an honor to become intimately involved with rare disease patients, advocates, families, and stakeholders over the past 10 years. And the culmination of the ongoing work that has been done to help build 'community' and 'unity' within rare disease comes together in a very important way the last day of February for World Rare Disease Day, celebrated around the globe," stated Nicole Boice, Founder of Global Genes. "Global Genes will continue to be involved in activities like World Rare Disease Day, as part of our strategy to expand awareness efforts."
There will be various activities taking place all over the United States, as well as countless locations around the world. If you are interested in taking action for the rare disease community to shine a light on rare disease patients and caregivers around the globe, here are a few ways you can help: 
Share on social media
Be a social advocate for the rare disease community by using #WRDD2019. 350 million people worldwide are affected by rare disease and a simple share on social media could create big waves in increasing awareness, funds, and support for the community. 
Join the RARE Portal
Share your story with other like-minded individuals. It takes just a few minutes to create a profile in the RARE Portal through Global Genes and by indicating your disease affiliation and role in rare, you can make valuable connections, receive personalized resources and information on clinical trials. What's more, you'll help enhance the knowledge and engagement of others across the rare disease community by adding your events and your story.
Show that you care
The Blue Denim Genes Ribbon is a symbol of hope for over 7,000 small rare disease communities around the world.  Spark a conversation and increase awareness by wearing a Blue Denim Genes Ribbon® and an advocate shirt from Rarehouse with your a favorite pair of jeans! 
Educate yourself
Did you know rare diseases affect more people than AIDs and cancer combined? Learn more about the surprising stats on rare diseases and bring awareness to the more than 7,000 types of rare diseases. 
Check out Global Genes' World Rare Disease Day infographic below, to learn more about rare disease.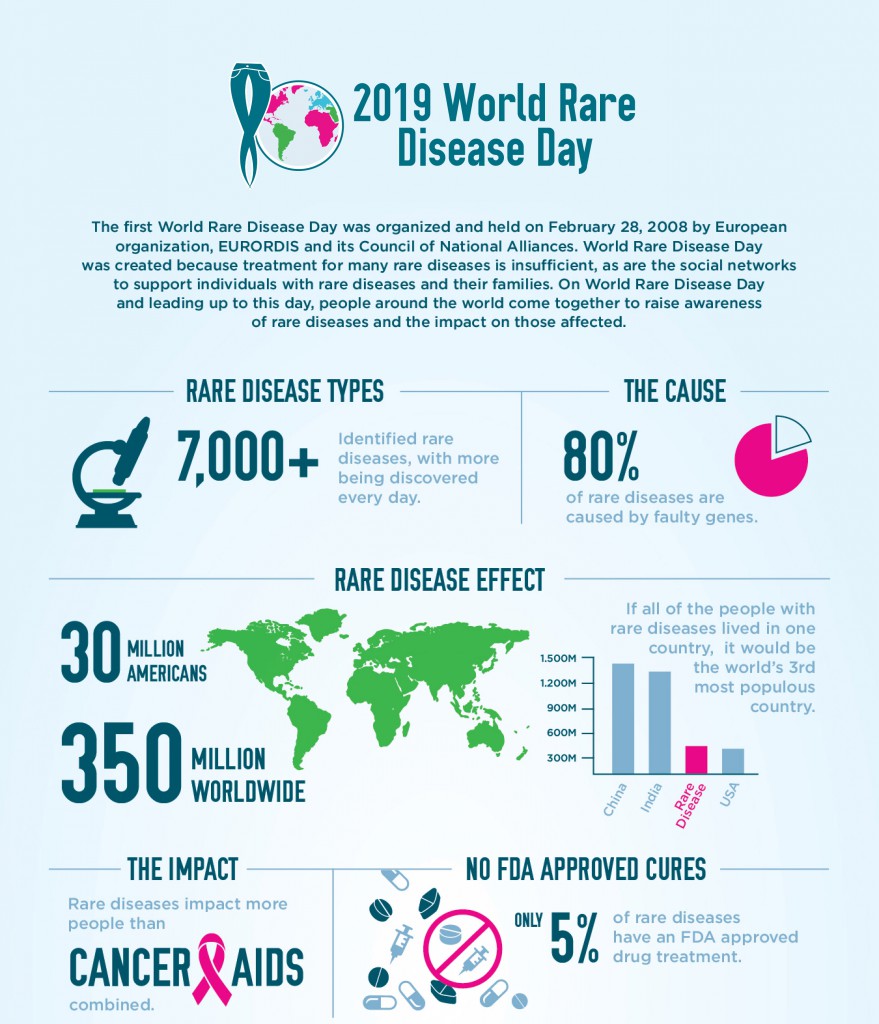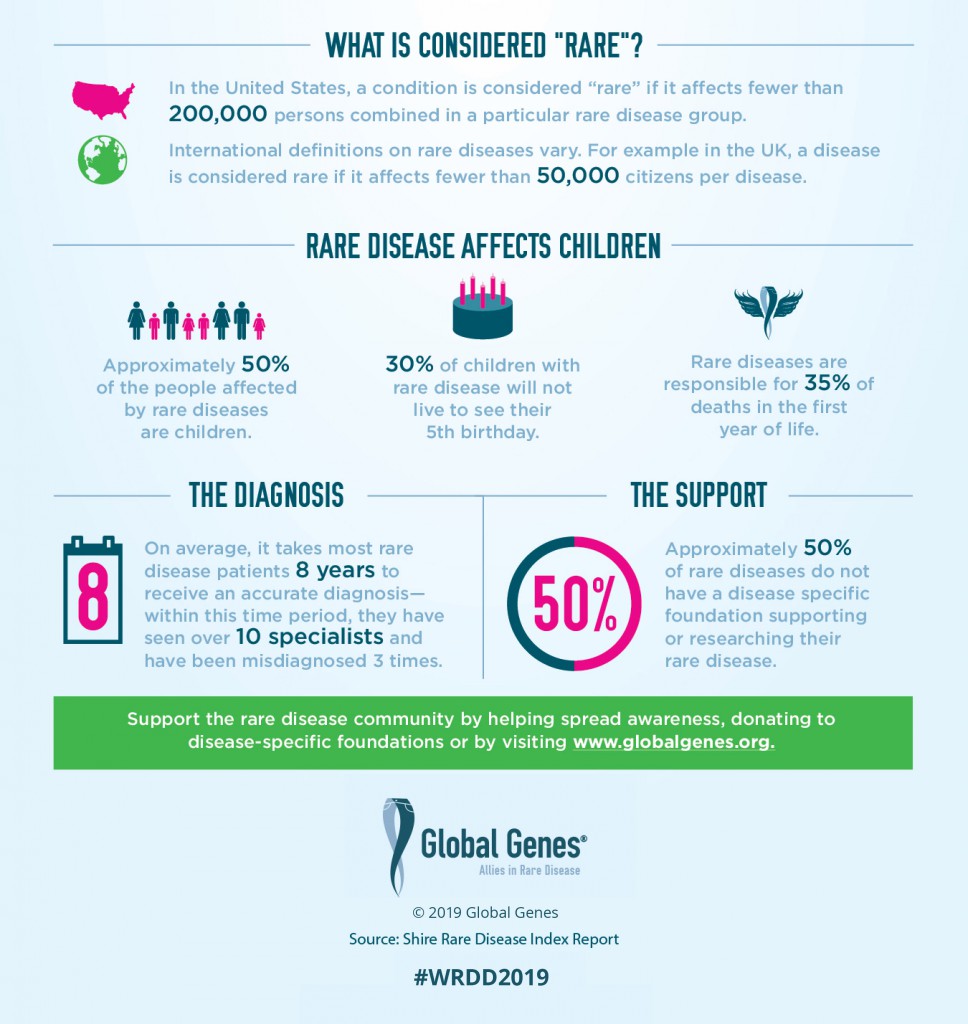 Get involved
Participate in local World Rare Disease Day events to help raise awareness and learn how to positively impact those with a rare disease in your community.
 Get involved and stay involved. Join us later this year to connect with key stakeholders and propel curative progress at the Rare Disease Summit in Boston from June 13–14.