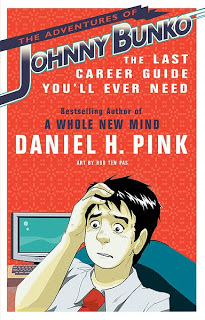 Strategy - Down from the Clouds
By Dan Keldsen - Co-founder and Principal at Information Architected
I recently had the good fortune to spend an hour talking with Bestselling author Dan Pink on his last book, Johnny Bunko: The Last Career Guide You'll Ever Need - and had a chance to pick his brain in the overlapping areas of interest we have, and the intersections of innovation, continuous learning, teamwork, and various forms or flavors of psychology at work in the business world.
Take a listen to the resulting podcast interview, and I'd be willing to bet there are some takeways that each one of us can run with after listening. Feel free to comment, and don't forget to reach out to both Dan Pink (@danielpink) and myself (@dankeldsen) on Twitter, to keep the conversation going.
Listen to the podcast with Daniel Pink, hosted on Information Architected.