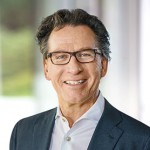 Roche has a well-established presence in China and continues to strengthen its commitment to R&D in the region. James Sabry, Global Head of Roche Pharma Partnering, discusses Roche's approach to discovering scientific breakthroughs, accelerating innovative research, collaborating with stakeholders, and meeting unmet medical needs in China and around the world.
Q. Do you think the record-breaking growth we've seen in recent years in the biotech industry will continue or do you think it will taper off?
A. I think VC spending in the health and biotech sector will remain on a high level. Especially in these very challenging times, it is paramount that different stakeholders within the healthcare industry are coming together to combat the COVID-19 crisis but also to ensure we are not slowing down innovation across the world and we can continue to bring breakthrough treatments to patients now and in the future.
There has never been a more exciting time to transform how we deliver care for patients. The scientific and economic landscape for biotech is changing rapidly: we know more about the underlying biology of disease than ever before and digital technology is uncovering new ways of finding meaningful insights in the growing complexity of medicine. At the same time the need for new, better, and more personalized treatments continues to grow.
Q. Will you pursue more cross-border partnerships in the future to further leverage this momentum?
A. Our main aim is to access great science, which could include scientists anywhere in academia and the private sector. We are currently managing over 220 partnerships across the globe and are continuously looking for groundbreaking innovation globally that complements our own pipeline across all our main therapeutic areas and to explore uncharted areas that have the potential to deliver pioneering therapies. We are certainly seeing pockets of excellent science emerging in Asia.

Q. What is the current environment in China when it comes to innovative biotech products and technologies?
In China, innovation is still in early stages, but it's with high growth potential. Roche's strong presence in China, and our significant investments in our Roche Innovation Center Shanghai, underscore the importance of China for the global economy and as a growth market in healthcare.
Strong government and private funding support of the life sciences is helping growth of the biotechnology industry, and new innovative treatment approaches like for example significantly advanced CAR-T approaches. Overall, the future looks promising for R&D, and the number of innovative drugs introduced is likely to increase.
Q. We are seeing the rise of immunotherapies, cell therapies, digital health and AI tools, among other technologies. What areas are of interest to Roche?
I think treatments, like gene and cell therapy, which we are just at the cusp of understanding, will be the most important medicines 10–20 years from now. In addition, enormous advances in technology are aiming to bring a reality of personalized healthcare to life.
At Roche, we
constantly strive to gain a better understanding of the underlying disease biology. Together with our partners we are exploring uncharted areas that have the potential to deliver pioneering therapies. This includes for example our partnerships with Spark and Sarepta in gene therapy, but also our partnerships with Adaptive and BioNTech in cell therapy.
are expanding our range of modalities to make pioneering medicines against new or previously unreachable targets with partnerships like for example with Vividion, Arrakis, Bicycle or Nimble.
are closely working together with biotechs, governments, regulatory bodies, etc., towards a reality where data, technologies and analytics routinely enable better treatment development and healthcare delivery decision making, from accelerating drug discovery and development and to enabling better patient care. Some of our most recently announced partnerships in this area are with Harman and Fred Hutchinson Cancer Research Center.
Q. For Western companies interested in expanding in China, what guidance can you provide as they consider different types of transactions?
A. A key success factor of Roche's partnering strategy is our entrepreneurial, science-driven culture and decades of experience that enable us to create lasting partnerships with those who share our purpose of bringing breakthrough solutions to patients. We listen carefully to a potential partner and then create the structure for collaboration together, so that it meets both parties' needs and creates a win-win situation for all involved. We respectfully work eye-to-eye with our partners and want to build a relationship that follows great ideas and great science with the potential for long-term impact, not short-term gain. When working together with other cultures, it is essential to appreciate each other's strengths, processes and organizational culture.
Q. Are you seeing new business models that can facilitate the growth of cross-border deals? 
A. While the majority of collaborations are still the classic in-and out-licensing development agreements, we have seen recently some different collaboration approaches like for example midsize to large biotech companies acquiring a stake in Chinese companies leveraging the local development and commercialization expertise to gain fast and better access to the China market.
Q. The Roche Innovation Center Shanghai was established in 2004 in Zhangjiang Hi-Tech Park in Shanghai, providing the company with a well-established presence in the region. How does this set you apart from some of the other multinational corporations and China-based biopharmacos?
A. The Roche Innovation Center Shanghai reflects Roche's commitment to innovation and our R&D activities in China to bring treatments faster to Chinese patients:
We were one of the first (foreign) companies to establish a complete Pharma value chain in China, from R&D and production to sales & marketing, and also the first multinational Pharma company to set up a fully-owned R&D center in Shanghai.
Established in 2007, Roche Pharma Product Development Shanghai is one of the five product development sites of Roche Pharma worldwide driving and accelerating the late phase clinical development and registration of innovative drugs in China.
As a pioneer in pharmaceutical R&D, we are dedicated to innovation in China, for China and the world. As of the end of September 2019, Roche Innovation Center Shanghai had filed over 220 patent applications, 121 patents of which have already been granted. Four clinical compounds for the treatment of chronic hepatitis B virus infection have entered Phase I clinical trials.
In 2015, we invested RMB 863 million to build an innovation center in Shanghai to enhance our R&D activities in China aimed to address the unmet needs of patients with infectious, immunology and inflammation diseases for patients in Asia and around the world. The new innovation center was inaugurated in October 2019 and is home to ~150 scientists working on drug discovery and the early clinical development of new drugs, more than 90% of whom are local experts in China. With the development of a brand-new world-class research center, Roche's efforts will continue to enhance collaboration with local partners and government agencies, and to rapidly transform science into medicines for Chinese patients.
Q. What types of collaborations can the Innovation Center help foster?
A. Roche aims to further cultivate relationships with external partners in research and early development to spur collaboration by working with:
many leading Chinese and foreign academic institutions, biotech companies and research organizations to drive pharmaceutical research and translational medicine in China.
local research institutions and help attract top research talents from both China and overseas.
China plays a vital role in the global strategy of Roche. We're committed to further strengthen Shanghai as an important strategic global center of Roche.
Q. What role does Roche have in the overall biopharma and life sciences ecosystem, both within China and globally?
A. Roche is the world's largest biotech company and has a unique combination of strengths with its leading portfolio of therapies, expertise in medicine, diagnostics, biology, data-science and its strong established partnerships with world-leading companies such as Spark Therapeutics, Flatiron Health and Foundation Medicine.
More than 30 of our medicines are included in the WHO Essential Medicines List and we received 33 FDA breakthrough designations, which is a great testament to our history of bringing breakthrough innovations to patients. To drive the scientific and drug discovery efforts that will benefit patients, we invested CHF 11.7 billion in R&D in 2019. Roche has launched 16 transformative medicines for patients over the last decade; 11 out of the 16 are partnered medicines - speaking to how important our successful and lasting partnerships are.
Roche Pharma China provides Chinese patients with breakthrough medicines in multiple key therapeutic areas, including oncology, infection and virology, transplantation, and rheumatic diseases. Up to today, we have launched 22 medicines covering eight therapeutic areas in China. Among multinational pharma companies, Roche takes the lead in building and upgrading a complete pharma value chain covering early research, late phase clinical development, manufacturing and commercialization. Roche has seven targeted drugs listed in the National Reimbursement Drug List and will continue to drive innovation and strengthen its investments in China, especially in R&D. We are working with the government, medical institutions and NGOs to explore innovative ways of cooperation to improve drug accessibility and patient affordability.
Q. What are some unique opportunities and challenges in China?
A. With more sustainable economic growth and further advances in healthcare reform, the pharmaceutical industry in China will continue to grow:
Building up China's entrepreneurial and innovative capabilities is one of the government's key focus areas and the urge to innovate is unprecedented.
China's demand for high-end healthcare services and products, as well as advanced medical devices that treat chronic diseases, such as cancer, has increased rapidly over the past few years in response to the enormous unmet healthcare needs.
China Healthcare reform cultivates innovation, with the goal of providing patients with affordable and accessible healthcare services. We saw a very positive development in particular the accelerated approval and reimbursement of innovative drugs in past years. We are confident about our long-term growth prospects by bringing more innovative products in China faster to benefit more Chinese patients.
On the other hand, the market is moving in a more sustainable direction, with the goal to supply affordable and high-quality drugs at a price point that values and encourages innovation.
Companies need to accelerate their portfolio shift while at the same time adjusting their commercial model for OPOs.
Looking into the future, for multinational companies, bringing new products faster to market with a speedy market penetration will become the winning factor.
Q. How can early-stage companies best approach Roche to explore opportunities to partner?
A. We fastidiously scour the latest developments in science around the world to identify the most promising products and technologies. If partners are interested in collaborating with us, we invite them to get in contact with us at one of the upcoming partnering conferences. In addition to our participation in ChinaBio® Partnering Forum, we look forward to also joining other conferences such as for example BIO-Europe® in October. Furthermore, we encourage potential partners to visit our Roche Pharma Partnering website to find out more about our areas of interest and fill in our contact us form to provide us more background information on the partnering opportunity.
We are working together with biotechs at all development stages and do not shy away from taking a risk and entering a space early if we see scientific promise and alignment with our portfolio. For us, the science and quality of R&D combined with a highly unmet medical need are essential.